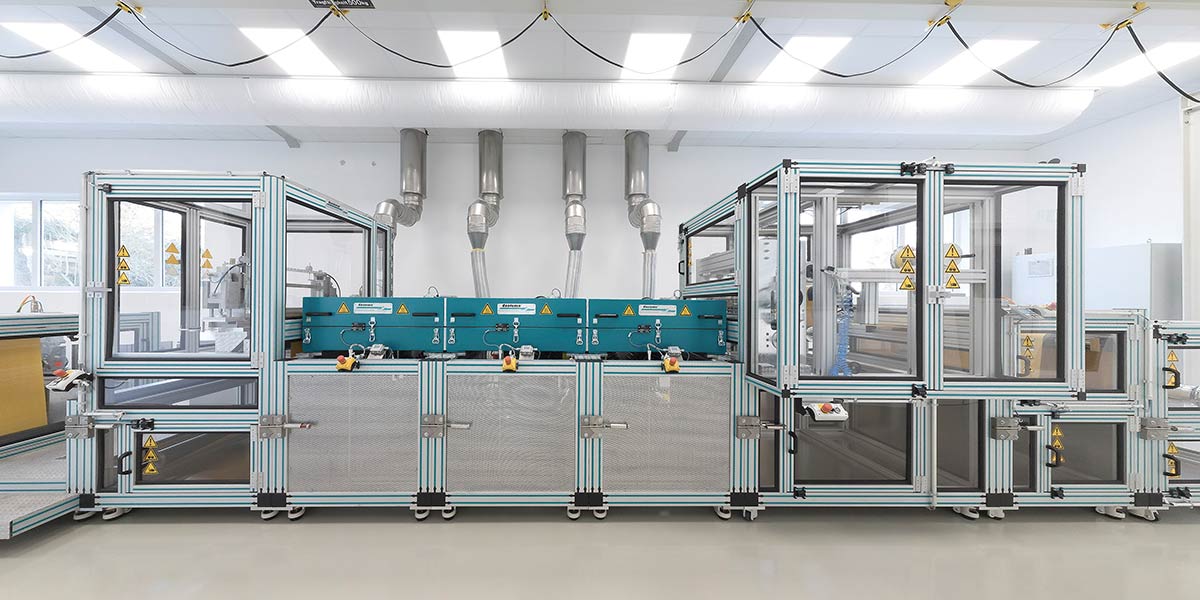 "Space for innovation" was the motto under which Laufenberg opened the new Technical Center with a pilot coating line in 2017.
Laufenberg – a family owned company founded in Krefeld in 1947 – manufactures release papers and films used in the production of various applications, such as e.g. adhesive tape for the automobile industry, self-adhesive products for the health sector and for the aviation industry. Within the industry Laufenberg is renowned particularly where specific applications and characteristics are required to fulfil individual customer requirements and where high quality is a must.
2006 marked the beginning of a new era for the company when Jörg Soding, a paper engineer, took over the management of the company from his parents, since then Laufenberg has gone on from strength to strength. The plant has continuously been updated with the introduction of modern technology. Not only has machinery been updated but also the buildings and the surrounding area have been extended, modernised and altered. The objectives are energy efficiency, increase in volume, process optimisation and the elimination of errors. One major new achievement: the new customer oriented innovation centre. "A company without a vision has no future," says Jörg Soding and to support his vision the brand new innovation and technical centre was set up.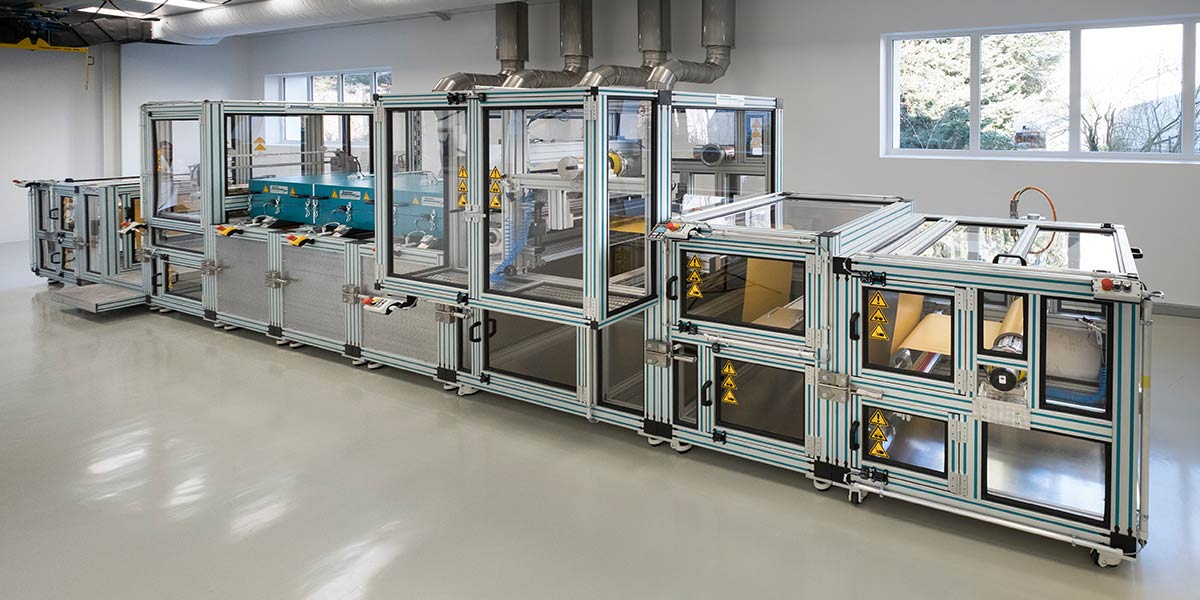 Innovations are new types of release liners but also new intelligent materials that allow us to produce products with multiple layers. "All types of coating are our core competence," says Dr. Heike Harwardt, responsible for the management of the new technical centre.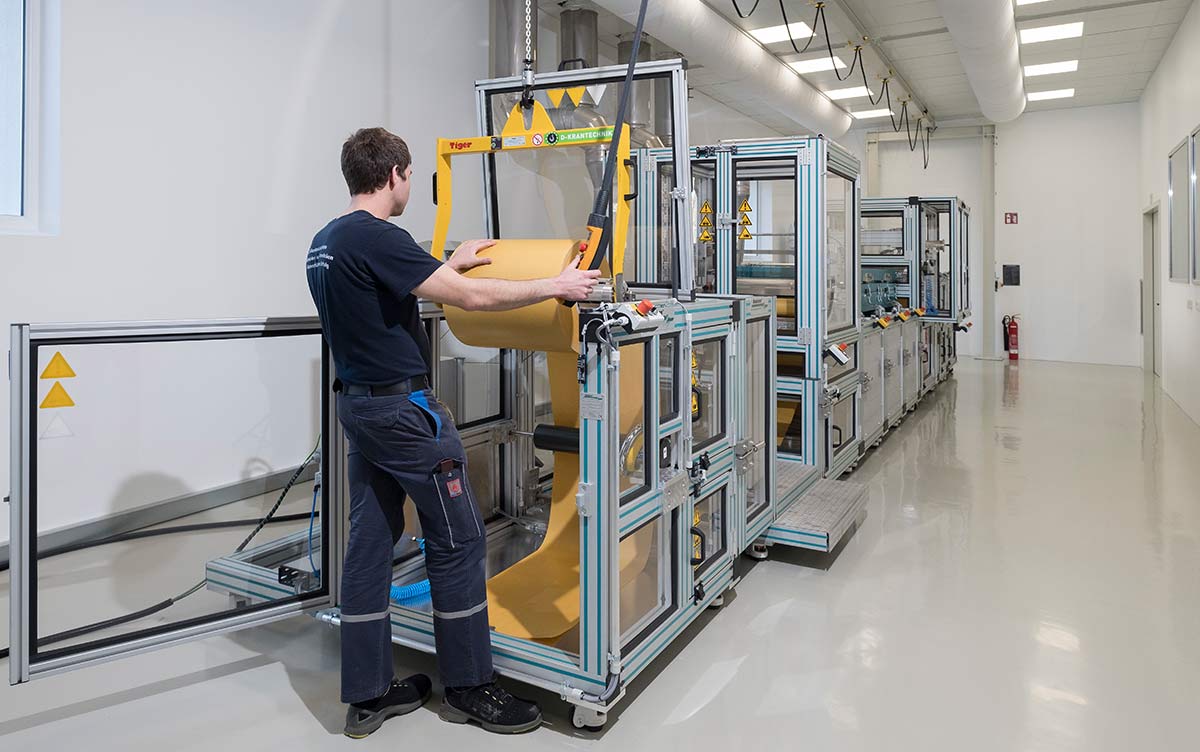 The new production line, as all of Laufenberg's production lines, must meet the high demands of the company. The aim of this new production line is to produce small quantities for customers up to 550 mm in width, to develop new types of silicon in cooperation with our silicon suppliers and to test new types of release liners with our paper and plastic film suppliers. For this we have a machine with a five-roller coating head. This is state of the art technology, no other coating procedure can apply such high viscosity fluid (100-1,000 mPas) in the required thickness of between 0.5 -3 microns.
The new production line can also produce thicker layers of over 300 µm by using fluids with additives. To do this a doctor blade is available. To ensure flexibility in the future Laufenberg chose the modular system Click&Coat® from Coatema in Dormagen. Each module can be altered at any time and further modules are planned in the future.
Laufenberg has one 4 metre long drying section and by using UV-LED-lamps it is also possible to set. The four meter long drying line can be heated up to 220 °C and thus reaches line temperatures of over 200 °C. An explosion protection and prevention can be introduced, however it has not yet been implemented and therefore at the moment solvent based fluids cannot be used. Once a carrier has been covered the laminating module allows the lamination of various materials.
One machine alone does not make an innovation centre. The building around the machine had to be adapted too. In the hall where Bernhard Laufenberg's old machine dating back to 1956 stood, you now find a totally restructured production environment and the technical centre. A ventilation system with F9-Filters ensures clean air and secure doors provide an air lock to limit air contamination – if needed this system can be easily upgraded to ensure clean room conditions.
In the newly built laboratory new mixtures are prepared. Various silicone and silicone free coatings can be prepared in quantities varying from 20 ml to 30 l. Mixers mix and disperse the coating material. It is possible to work under scientific laboratory conditions thanks to the new extractor fan which guarantees work is completed and complies to legal requirements.
The new production line is suitable for almost all kinds of paper, foil or tissue. A Corona treatment is possible in-line, same as with the large production lines.  The coating process uses five-roller coating head, doctor blade or the flexo-printing method.  The coated material is either delivered in roll form or can be cut into sheets and discs.  A crane is used to hoist rolls of coated materials and transfers them to the front of the machine for a second layer of coating or for the reverse side to be coated.
The new innovation centre and the modern modular system in the pilot production line offer research facilities to customers, suppliers and other interested parties and provide a unique opportunity to work on new innovative forms of coating.
Laufenberg's research and development team, with 4 motivated team members, are happy to offer advice and support and to work on new interesting solutions – please feel free to contact us.